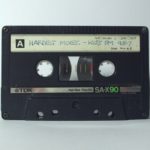 UPDATE: Two three versions are now available.
London's Kiss FM began broadcasting illegally on 94fm in October 1985 and soon Colin Faver played this mind-blowing scratch-mix late evening on 10th October.  Heaps of raw roughness in this beautiful beast. Thanks to Colin Faver for playing the request and the Aero shout out – you are sadly missed…
Use the player's forward and back buttons to hear and download all three versions.
Tracklist: Malcolm McLaren – Do you like scratching? Grand Master Flash – Adventures on the Wheels of Steel, La Pregunta – Shangri La, Herbie Hancock – Rockit, Chic – Good Times, G-Force feat. Ronnie G & Captain Cee – Feel the Force, Lovebug Starski – You've Gotta Believe, Kurtis Blow – Party Time, Incredible Bongo Band – Apache, West Street Mob – Break Dance Electric Boogie, Freeze – AEIOU, Man Parrish – Hip Hop Don't Stop, Malcolm McLaren – Buffalo Girls, plus some other samples.
If, after all these years, you have any info at all on this mix, please get in touch.