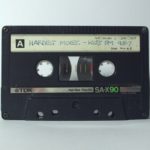 UPDATE April 2018: The mix formally known as Kiss FM Hardest Mix has finally been ID'd. Two three broadcast recordings are now available here.
London's Pirate Kiss FM began broadcasting illegally on 94fm on Monday 7th October 1985. Three days later Colin Faver played this mind-blowing scratch-mix on the Thursday evening.  Heaps of raw roughness in this beautiful beast. Thanks to Colin Faver for playing the request and the Aero shout out – you are sadly missed…
Use the player's forward and back buttons to hear all three versions.
Tracklist: Malcolm McLaren – Do you like scratching? Grand Master Flash – Adventures on the Wheels of Steel, La Pregunta – Shangri La, Herbie Hancock – Rockit, Chic – Good Times, G-Force feat. Ronnie G & Captain Cee – Feel the Force, Lovebug Starski – You've Gotta Believe, Kurtis Blow – Party Time, Incredible Bongo Band – Apache, West Street Mob – Break Dance Electric Boogie, Freeze – AEIOU, Man Parrish – Hip Hop Don't Stop, Malcolm McLaren – Buffalo Girls, plus some other samples.
UPDATE: Finally ID'd this mix!  It's a 1983 recording named SHADOW 1 by Aldo Marin – DJ at New York's WKTU92. He co-founded Cutting Records, the label that released Hashim's Al-Naafiysh (The Soul). So much great music has come from this guy. I'll publish a whole article on Aldo Marin soon, when I get tiiiiiiiiiiimmme…
Would love to hear your thoughts on this mix, or info about KTU or Marin. Please leave a comment or get in touch.