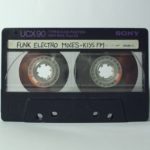 Recorded from Colin Faver's London pirate Kiss 94FM show sometime in 1986. No ID on this mix so far. It's less crossfaded, more cut and splice, very New Yorky, possibly circa 1982. In the style of Latin Rascals / Big Apple Productions. If you can help please leave a comment below.
Update April 2023… OK well it's only taken me 37 years but it's finally been ID'd. Perfect Beat by Bird on JS Records. HT to the Bootleg Megamix Archive on YouTube.
Tracklist: John Rocca – I Want It To Be Real, Hashim – Al Naafiysh (The Soul), Gloria Estefan – Conga, Anthony & The Camp – What I Like, Miami Sound Machine – Can You Feel The Beat, Alisha – Baby Talk.