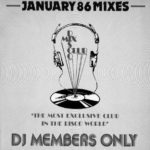 Late one 1986 Monday evening in the box room of a three-bed semi, an FM tuner is locked into 94.9 BBC Radio London. Dave Pearce broadcasts his 'Fresh Start to the Week' show. Tonight, a treat for the pause-button pushers – an electro / hip hop competion mix. ID all the tunes, call 01 486-7744 and win… something. Play and Record and Pause are down… release the pause, cassette whirrs… Now, 32 years later, this super happy b-boy mix has been re-discovered, digitised and shared. Shout out and respect to Dangerous Dave Pearce.
Unable to credit the mixer – no namecheck on the tape. If you know who created this, please share your wisdom.
UPDATE: Yes it's a DMC mix, from the January 1986 Mixes LP. Simply titled 'Hip Hop Mix' it was expertly crafted by the sensational Sanny-X. It's a real goody goody!
Tracklist: Doug e Fresh and the Get Fresh Crew – The Show, Afrika Bambaataa – Funk You, Krush Groove All Stars – Krush Groovin', Man Parrish – Hey There Home Boys, Art of Noise – Close to the Edit, Ronald Reagan, Afrika Bambaataa & Soulsonic Force – Looking for the Perfect Beat, Sanny X & P-Rez – Splashdown (The Hip Hop), Club Rapper's (and Harold Faltermeyer) – Axel F (New York Rap Mix), Kraftwerk – We Are The Robots, Man Parrish – Hip Hop Don't Stop. Do I win a prize…?