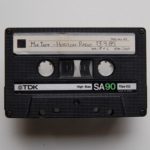 Barry Jones on London pirate Horizon Radio 94.5 FM presented the drivetime show for ages on the station, and each weeknight at 6pm he played the Mix at Six. A mastermix every day! This one is a Les Adams creation for the DMC September 1985 mixes LP, and it comes complete with dog bark sample. If you had a digital sampler in the eighties it was de rigueur to grab a dog off the street and record it barking. That, and making your sampler burp. Oh man, sample a burp and play it two octaves lower – you'll sound like a drain.
UPDATE: Read the Radio Horizon story at their website (new for 2018!) . Heaps of interesting reading there, plus a growing archive of shows and jingles. Great to see the station's history being kept alive. 33 years they've been off-air… wouldn't it be just the loveliest thing to have Horizon back on the FM dial?
Tracklist: Royale Delight – (I'll Be A) Freak For You, Pointer Sisters – Dare Me, Total Contrast – Takes A Little Time, SOS Band – Break Up, Shannon – Stronger Together, Lisa Lisa & Cult Jam with Full Force – I Wonder If I Take You Home, Dog – Bark.