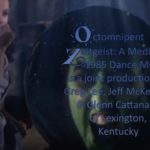 Octomnipent Zeitgeist is a 35 minute 'best of 1985' medley, which was published in two parts by DJ remix service Hot Tracks. The name translates as 'The Spirit of 85'. The mix represents 600 man-hours work by DJ Glenn Cattanach, Greg Lee & Jeff McKeehan. No digital recording or samplers were used in its creation. Digital equipment was prohibitively expensive in the mid 80s, so the mix was created with quarter inch tape running at 15 IPS, two turntables, plus a high-end cassette deck. Long drum loop sequences were recorded to cassette, and played under records to forge cohesive segues. There's some interesting further reading here. Paul Oakenfold broadcast part one on London pirate Kiss FM, which is the source of the first track on the player below. This is followed by stereo versions of parts I and II. Massive respect and sincere handshakes to Glenn Cattanach for contacting this website a few years back, and kindly supplying MP3s of both parts. Listen out for the (wizard of) OZ samples at the start, and Glenn's sped up announcement at the end (which is transcribed on the picture above).
Tracklist for part I: Prince – Pop Life,  Alison Moyet – Invisible, France Joli – Does He Dance, Tears For Fears – Shout, Mai Tai – History, Alisha – Too Turned On, Scritti Politti – Perfect Way, Jenny Burton – Bad Habits, Belouis Some – Imagination, Skipworth & Turner – Thinking About Your Love, Stevie Wonder – Love Light In Flight, Pointer Sisters – Dare Me, Jeff Lorber – Step By Step, Kajagoogoo – Turn Your Back On Me, Murray Head – One Night In Bangkok, Robey – One Night In Bangkok, Billy Ocean – Lover Boy, Simply Red – Money's Too Tight To Mention, Aretha Franklin – Who's Zoomin' Who, Angela Bofill – Can't Slow Down, Nuance – Love Ride, Chaka Khan – This Is My Night, Shannon – Do You Wanna Get Away, Rene & Angela – Save Your Love (For #1), Simple Minds – Don't You (Forget About Me), Steve Arrington – Feel So Real, Belouis Some – Some People, André Cymone – The Dance Electric, Hall & Oates – Dance On Your Knees, Five Star – All Fall Down, Video Kids – Woodpeckers From Space, Tramaine – Fall Down, Fancy – Come Inside, Madonna – Into The Groove,
UPDATE: Robert Araoz produced an incredible video for OZ!
UPDATE2: Greg Lee produced an incredible video for OZ!!!
Both are stunning – they perfectly capture the essence of Eighties music videos. Great to see the source of the TV & movie samples too! Glenn Cattanach has more on his Vimeo channel.