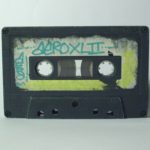 In the mid 80s London's Capital Radio scheduled an electro and hip hop show on 95.8fm and 1548am. The host was Mike Allen – The Boss in London Town. The show was required-listening by the B-boys and fly girls of Allen's Army. Mike sadly left us in 2015, but through the courtesy of his pause-button pushers there are many recordings available in cyberspace. Shout out to MikeAllenCapitalRadio.com and Aging B-Boys Unite. Mike Allen deserves to be remembered as a key architect of the London Electro scene, so massive respect is due.
Anyhow, here is Tablet the Second. A unique and exclusive mix, created by/for Capital Radio. It hit the number one spot on Mike's Frontline Electro chart in February 1986. The mix is a strange one – an off-beat cut and splice of Americana. It includes James Brown, DJ Cheese and Word of Mouth, Kennedy, Reagan and Nixon speech clips, and culminates with some worrying nuclear armageddon. The Sting sample is sublime.
UPDATE1: This site sent an RFC to Mike Allen in 2005.
UPDATE2: Literally 15 minutes later –  a reply! Mike Allen says: "Hi Rich. I can remember the title but not that artist – it possibly was a pre-release on Tommy Boy, out of NY. I'm sorry not to be more informative. Hope that helps. Mike Allen."
Bloody hell! An email from The Boss! Hugest respect to you Mike.
UPDATE3: It's 2018, and in honor of the great man this mix gets a remastering. It now includes an unabridged introduction by legendary VO Patrick Allen. Thanks to Simmo_Old_School_Mix for the source of the word 'Transcribed'. Also includes the final moments of the mix – it's the closing coffin lid from Michael Jackson's Thriller. The left-right stereo channels are correctly aligned. Plus you're now getting a loss-less .flac file. More bits = happy ears. Enjoy  : )
UPDATE4: Ray Murray uploaded the original tape version to YouTube, and with help from TheDJFizz we now have a comprehensive tracklist!
0:21 – DEF & DJ Three D: DEF Momentum 0:24 – Dazz Band: Let It All Blow 0:40 – James Brown: Living In America 0:49 – Z-3 MC's: Triple Threat 1:14 – Choice MC's & Fresh Gordon: Beat Of The Street 1:28 – Jazzy Jay & Cool Supreme: B Boy Style 1:46 – Kurtis Blow: America 2:22 – Word of Mouth & DJ Cheese: King Kut 3:01 – Bonzo Goes to Washington: 5 Minutes 3:19 – Time Zone: World Destruction 4:17 – Sting: Russians 4:41 – 19th Fleet: Star Raid 5:28 – The Real Roxanne – Romeo 5:38 – Korner Boyz: Saga of Roxanne/Bust The Move 6:08 – Michael Jackson: Thriller