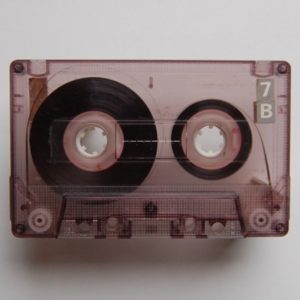 Sometime in 1985 the tuner was locked into London pirate radio station LWR for the Tuesday night hip hop show. Here Tim Westwood plays 'DKC1IXX', a mixtape from the P-Scratch Allstars, comprising of DJ Jeeves on turntable and Sir Funky Lord of the Beatbox on percussion programming. The Sony HF90 cassette starts with a severely wonky azimuth and we lose the high frequency, which may be caused by Westwood's original cassette, or my cassette, or a combination of both. Thankfully the tape sorts itself out at 4'30" and treble returns.
This recording includes Westwood's customary comical comments, plus he dispatches a few double-def dedications and special Zulu Hello's to:
Highway
Wakey
Wild & Turtle
The Turtle Master of England
The Metro Wreckers (Peace & Unity unless provoked)
and King Cut Fast Cut King Fast – The Bi-Pod (known by his mum as Andrew Teltham).
Tracklist: Here Comes That Beat – Pumpkin and the Profile Allstars, Sucker DJs – Run DMC, Jam Master Jay – Run DMC, Cosmic Blast (Dub) – Captain Rock.
"DJ Undercover is looking worried, wiping some sweat off his brow"