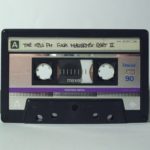 Captured from the Mixdoctor's show on Solar Radio sometime in 1986. This is an awesome mix. Originally believed to be "The 31 Track Megamix by Les Adams", but after a few days of it being on this site Marky DMC emailed the correct artist and title. Les Adams responded to confirm that it was indeed created by Alan Coulthard and is on the Disco Mix Club October 1984 mixes LP. Many thanks both of you for the info, and big up Marky for supplying a clean copy of it too. This was used to fix the radio recording which had an erase accident near the end. As a bonus you can also hear Marky's vinyl version on the player below.
Back in the 80s Les Adams ran a competition to name all 31 tracks. And in 2008 this website did the same. The first person that could name the 31 track names AND artists would win a Richcolour Tape & Biro T-Shirt. Entries from Alan Coulthard were valid, however it was Jepi that won. Here are the results of some excellent audio detective work:
"Please find tracklist for 31 track Hop It mix, theres 6 tracks missing from my list but only stabs and string sounds.. No Major tracks missing.
1.        Herbie Hancock – Rock it
2.        Vocal track???
3         Man Parrish – Hip Hop Be Bop
4.        Rockers Revenge – walking on sunshine
5.        Yazoo – Situation
6.        Frankie Goes to Hollywood  – Relax
7.        Marvin Gaye – Sexual Healing
8.        Michael Jackson – Thriller
9.        Guitar Stab sound??
10.     Grandmaster & Melle Mel – White Lines
11.     Boney M – ma baker
12.     Afrika Bambattaa & James Brown  – unity
13.     Herbie Hancock megamix sample
14.     String Track ?
15.     Ollie & Jerry – Breaking (There's No Stoppin Us)
16.     Dog bark sound ??
17.     Shannon – Let The Music Play
18.     Shannon – Give me tonight
19.     Nairobi – soul makossa
20.     Newcleus – Jam On Revenge
21.     Unique – what I've got (is what you need)
22.     String Sound ??
23.     Frankie Goes to Hollywood – Two Tribes
24.     Miami Sound Machine – Dr Beat
25.     Globe n Wiz kid – play that beat
26.     Freeez – IOU
27.     Tony lee – Reach up
28.     Sister Sledge – Lost in Music
29.     Sharon Redd – Beat the Street
30.     Tyrone Brunson – Smurf
31.     Don't know where track 31 is ???"
So this is the most complete tracklist we have. Can you help fill the gaps? Leave your comment below.