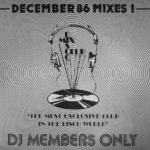 Recorded from a Mixdoctor special broadcast on pirate radio station Starpoint FM 94.3. Les Adams played a selection of Disco Mix Club mixes and medleys one day in late 1986, including this marathon 20 minute mix from the December Mixes LP. The Starpoint transmitter wasn't having the best of days though, as it was broadcasting one channel mono. The stereo panning effects are here, but you get a fade in and out instead of left to right. Any hint of a stereo recording is caused by the Maxell MX90 dropping out. Nice station idents (and plenty of them) overlay the classic soul and funk, taking you back to 86 in the mix.
UPDATE – MAY 2018: Thanks to Bob3070 on Discogs for selling a crisp VG+ of this! Wow… hearing this * beautiful * stereo field after 32 years in the mono wilderness is a real head-tingler. Use the FWD & BACK buttons on the player to A-B both recordings.
Tracklist (helpfully provided by Mr Adams): Real Roxanne – (Bang Zoom) Let's Go Go, Wally Badarou – Chief Inspector, Kurtis Blow – If I Ruled The World, Whistle – Just Buggin, Full Force – Alice, I Want You Just For Me, Midnight Star – Headlines, Nu Shooz – I Can't Wait, Timex Social Club – Rumors, Janet Jackson – Nasty, Gwen Guthrie – Ain't Nothin Going On But The Rent, Phil Fearon – I Can Prove It, Aurra – You And Me Tonight, Aretha Franklin – Who's Zoomin Who, Millie Scott – Prisoner Of Love, Rochelle – My Magic Man, Michael Jonzun – Burnin' Up, Janet Jackson – What Have You Done For Me Lately?, Cameo – Word Up, Raze – Jack The Groove, Farley Jackmaster Funk & Jesse Saunders – Love Can't Turn Around.